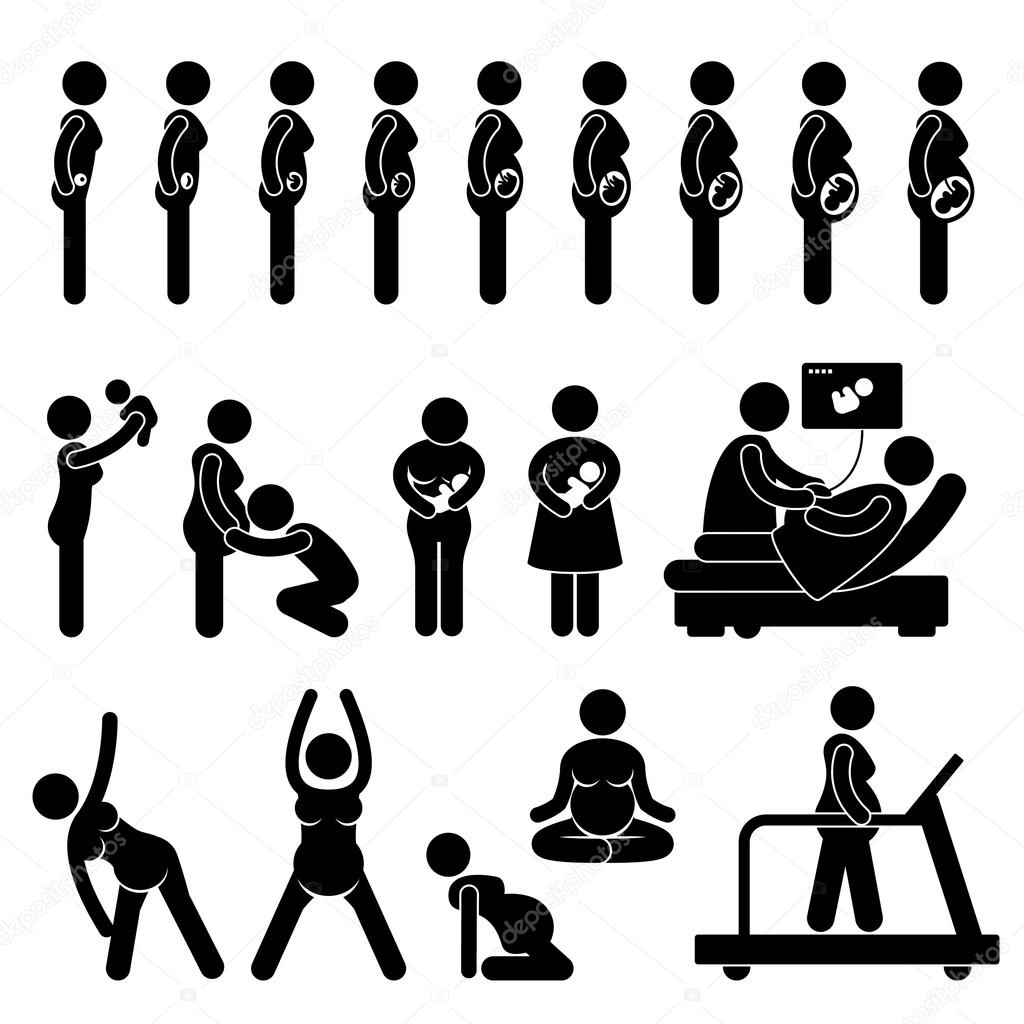 We all know that exercise is important for a healthy life. That means that when a woman is pregnant, they should still be exercising if they are able to. It will help in getting back into great shape after the pregnancy and dropping the pounds that were gained.
I know that in the first trimester (or for the entire pregnancy!) there can be mild to severe morning sickness or even Hyperemesis Gravidarum. In these cases I feel like finding the things that make one feel better is the more important than anything else.
When I was in my first trimester I had really bad evening (8:00 PM) sickness. Since that was the time that I was used to exercising, I had to adjust and try to exercise in the morning or earlier in the evening.
I was doing weight lifting until around 33 weeks and then I switched to body weight because I was getting uncomfortable. My belly really popped all of the sudden at 37 weeks and I felt like a complete whale.
I have seen women on social media showing themselves lifting weights at like 38 weeks pregnant. That is good for them but I would suggest for women to do what works for them and not feel bad if they do not feel comfortable enough to do that in the gym.
Nutrition during pregnancy
There is a big list of things to avoid eating as well as putting on your skin when you are pregnant. It is good to be aware of these things because you need to keep your baby and yourself from harm.
Admittedly, I did not follow the whole caffeine avoidance thing. I realize now that it could have really harmed my son and if I am ever pregnant again, I will try to give it up completely.  I just felt so incredibly tired and did not know how get any energy to work.
The cravings I had during pregnancy were banana bread and pizza. These are obviously not very healthy especially given the quantities I ate them in. I did manage to keep my weight gain at 25 pounds total for the whole pregnancy somehow. The OB/GYN scolded me for that even though it was within the recommendation range.
I do not think a women should feel ashamed if they gain more than the recommended 25-30 pounds during pregnancy. Even if a woman gains 150 pounds, they can still lose the weight after they give birth. It just might take some time and effort or it could even fall off quickly!
My new recipe
This has nothing to do with pregnancy but I decided to add it in the post.
I got up super early this morning and felt like baking for whatever reason. Homemade donuts sounded like a good thing to make for the family. There was some buttermilk in the refrigerator that was still good so I wanted to use that as my wet ingredient.
Since I am all about cooking with tea, I decided to put four Celestial Seasonings Honey Vanilla Chamomile tea bags into one cup of the buttermilk. I let that steep for 30 minutes and squeezed out the bags afterwards to get more of the tea into it. I then poured it in my bowl with the other ingredients (one egg, flour, salt, baking powder, butter, sugars, almond extract and vanilla extract) that were already mixed together.
I put the dough in a donut pan and cooked it at 400 degrees for 11 minutes. The result looked like this:
Not quite donut-like but still wonderful! We can really taste the soft flavor of the tea in every bite. The texture of them is light and fluffy. I tried to make purple icing for them but it came out really bitter. It does not matter though because they are so great on their own.